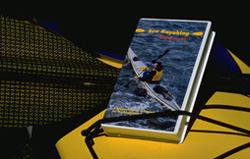 Sea Kayaking: Getting Started
Whether it's calm waters, picnic lunches and wildlife-watching or wave-riding adrenaline rushes, sea kayaking is fun for families and 'extreme' sports enthusiasts alike. Freedom, relaxation and community with nature await you on the surf. Here's what you need to get started. This Video/DVD details the boats, all gear, clothing, techniques and more.
Sea Kayaking: Beyond the Basics


This sequel to Sea Kayaking: Getting Started is an intermediate, instructional, sea kayaking presentation. Everything your learn in the first Video/DVD prepares you for the this second one which, aided by top notch instructors, takes your skills into moving water. Covered subjects: The art of the forward stroke, surf zone skills, paddling in conditions: wind, weather, current, paddling Tide Rips, packing for touring, coastal touring , expedition paddling, navigation/GPS. Included in this presentation are:
Brent Reitz's section on the forward stroke. Trained at the Olympic level and having a knack for clear, concise presentation, Brent imparts the five components of the stroke which earned him six National titles in wildwater racing.
World-famous Ed Gillette, who paddled his kayak on a self-contained trip from Monterey, California to Maui, Hawaii in 64 days, does an excellent job of the Packing for an Expedition and Expedition Paddling sections. Ed would know!
Well respected paddler, author, Tsunami Ranger and ACA Instructor/Trainer John Lull guides us through Coastal Paddling and Dead Reckoning Navigation, as well as providing the project with his interpretation of Harlme Nocturne on the saxophone.
ACA Instructor/Trainer Marce Wise, with assistant Heide French), providing a joyful and clear presentation of Surf Zone Skills, as well as how to Make a Crossing.
Also notable are Bay Area Sea Kayakers Penny Wells on Group Dynamics and Safety Issues, Sea Trek Ocean Kayaking Center stalwart instructor Mitchell Powers on Paddling in Wind, Waves and Current; California Canoe & Kayak Program Director Kenny Howell on Paddling Tide Rips and Serial Paddler Joe Niec on GPS Naviation.
This comprehensive video/DVD is a must for your progression into moving water, wind, surf zone, coastal and expedition paddling.
100 Minutes. $29.95.
Producer: Larry Holman, Moving Pictures
The Brent Reitz Forward Stroke Clinic
This presentation brings the rotational paddling technique of the elite Olympic paddler to the recreational kayaker. Brent has won six national titles in wildwater and marathon kayaking, was a U.S. Olympic Team Member, has competed nationally and internationally for ten years, and he is the National Junior Kayak Coach.
The lessons includes: Torso Rotation, Elbow Lift, The Catch, The Exit, Stretching, The Wing Paddle, and more.
Producer: Larry Holman, Moving Pictures
More accolades for Brent's Video:
"This video can really help you tune up your forward stroke. His clear insights from racing will help you attain more efficiency. Well worth owning a copy." -- Sea Kayaker Magazine
"Out on the ocean with a stiff headwinds, forward stroke efficiency is more than just a luxury; it's a necessity . . . this video provides a roadmap to getting the most from every stroke." -- Paddler Magazine

Surf Kayak Fundamentals
While is is not a Moving Pictures production, we recommend this video. It was produced by highly respected paddler, Tsunami Ranger, and ACA Instructor Trainer, John Lull.
Andy Caminos, Videographer. Will Nordby, Video Editor.
Coming Attractions
Sea Kayaking: The Eskimo Roll
A comprehensive study of several variations of this vital paddle stroke that is a must for anyone who paddles anything other than flat, warm water. The roll is seamlessly captured by the use of a clear Kayak and two cameras: one under water and one above.
Sea Kayaking: One Step Beyond
I have actually run into one kayaker who didn't have an opinion about some aspect of kayaking. Everyone else, including all of the people who do the expeditions, write the books and invent the technology, will be given an opportunity to tell us why they use certain techniques or do certain things in certain ways. PLEASE!! NO DEBATING, FOLKS! We will also hear from Environmental Traveling Companions about paraplegic, hearing and sight impaired and one-armed paddlers. Maybe we'll have author Derrick Hutchinson discussing Eskimo rolling techniques with a one armed paddler. I can't wait.