Paddler Magazine
"It covers virtually everything you need to know about sea kayaking, from boats and materials to strokes and rescue equipment. Whether you want to learn about bilge pumps, paddles, and PFDs, or anchors and airbags, it's all right there in an easy-to-follow presentation . . .
Filmed entirely in the Bay area around San Francisco, the presentation features instruction from several top-notch instructors, including 1990 U.S. Wildwater team member Doug Connor; two time C-2 World Champion Marietta Gilman; and ACA-certified instructor trainers Debrah Volturno, John Dye, and John Lull."
Sea Kayaker Magazine
"The most detailed review of skills available on video."
Ed Gillette
(World famous for his solo paddle from Monterey, California to Maui, Hawaii)
"Very well done, good mainstream advice. It's the best instructional video for beginning sea kayakers that I've seen."
Penny Wells, Bay Area Sea Kayakers "Everything one needs to know in order to get started sea kayaking is included in a simple, easy to understand visual manner............ ...elegant refined modeling by excellent instructors. Flawless."
Paul McHugh, San Francisco Chronicle
"This tape smoothly paces through a dense amount of basic information. Everything from selecting boats and paddles to skills and techniques is shown graphically and clearly.......Sterling content."
Canoe & Kayak Magazine
Brent Reitz Forward Stroke Clinic, Moving Pictures, 2001, $29.95. Reitz, former national coach, Olympic team member, and elite competitor, covers everything you need to know to tune up your forward stroke in five easy steps.
Canoe & Kayak Magazine Sea Kayaking Beyond the Basics, 90 minutes, 2000, $29.95, produced by Moving Pictures. Filmed on the coast and bays of Northern California, this video features expert paddlers demonstrating paddling through currents and the surf zone, and includes discussions regarding navigation and trip planning.
VidBook.com
Kayaking The Open Ocean
For more on sea kayaking, get Larry Lee Holman's Sea Kayaking: Getting Started videotape, from which this information is excerpted.

Whether it's calm waters, picnic lunches and wildlife-watching or wave-riding adrenaline rushes, sea kayaking is fun for families and 'extreme' sports enthusiasts alike. Freedom, relaxation and community with nature await you on the surf. Here's what you need to get started.
People are almost always timid when they start sea kayaking. They're not sure how their boat will respond or how they're going to react. Invariably, though, their uncertainty melts into absolute joy and anticipation as soon as they hit the waves.
Kayaking has been around for thousands of years. "Kayak" is an Eskimo word that means hunting boat. Since then, little has changed in basic boat and equipment design and paddling and safety techniques, except these days, the technology is used for recreation.
The Kayaks: There are two basic kinds of kayaks: decked and open-decked. Traditional kayaks are decked (have a covered top and a cockpit with knee and thigh braces inside to help control the boat). Good cockpit design will fit you like a shoe; the boat should be an extension of your body that responds to your knee and hip movements. The open-deck boats, or sit-on-tops, won't have that snug fit, but they're easier to get onto and off of.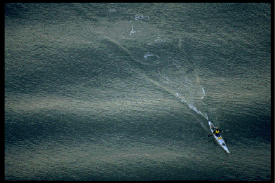 Long boats (17-18 feet) are fast and easy to paddle in a straight line. They're ideal for extended tours. Shorter boats (13-15 feet ) are slower, but they are also more maneuverable, making them ideal for short outings. The kayak's underside has a knife-like keel at the bow and stern that helps with tracking (keeping the boat in a straight line). The bottom's flattened sides keep the kayak stable in turns and sweep strokes. From bow to stern, you'll also notice the boat's upward curve, which keeps the ends out of the water and helps with turning.
If you plan to take long trips and enjoy traveling with a partner, consider a double-seat kayak. They're wide and stable and they have a good cruising speed. You can cover a lot of miles in a two-seater without much effort. Traditional triple-seaters for family trips are also available.

Some kayaks are outfitted with rudders to aid in steering. You still have to learn the leaning and corrective strokes needed to turn and track; after all, not all boats have rudders, and they sometimes break. A rudder is a plus, but you'll usually keep it pulled up until you really need it.
Like traditional sea kayaks, sit-on-tops, or open decks, come in different types. Their use ranges from recreation to high performance. The recreational open-deck boats range from the longer touring or diving boats to the shorter, more maneuverable surf and whitewater-specific boats.
Most kayaks are made of plastic, fiberglass, Kevlar and carbon fiber. The least expensive boats are made of molded polyethylene plastic. They're heavy, but they will take a lot of abuse. The carbon/Kevlar design is the lightest and easiest to paddle. It's also the most expensive, and won't respond well to impact (so keep the patch kit handy). Fiberglass hulls are a happy medium. They're manageable and fairly impact-resistant.
Clothing: Wet suits should be worn in extreme conditions or when paddlers know that they're going to be in cold water . . . And, of course, a personal flotation device, or life jacket, should be worn at all times.
The Paddle: Choose a paddle that fits your needs. Like kayaks, they come in a variety of materials; you want the lightest, strongest one you can afford. The paddle length is determined by your reach and the size of the boat. A short paddle gives you a faster stroke rate and more control. A longer paddle gives you more leverage at a slower rate, which makes it good for cruising in a longer, faster boat. If you hold your paddle on your head with your forearms at right angles to the shaft, there should be 6-8 inches between the outside of your hands and where the blades begin.
Learn to use your paddle correctly. Grip the paddle with your right hand first, lining your big knuckles up with the top edge of the blade. This will be your reference grip. Never let the paddle spin in your right hand; the knuckles stay lined up. However, the shaft can spin freely in the left hand. Keep your grip on the paddle relaxed. You'll learn three phases for every stroke: the catch, the power phase and the recovery.
The Wet Exit: In the event of a capsize, lean forward, hang on to your paddle with one hand and glide your other hand up to the grab loop on your spray skirt. Next, bring your hands to the side of the boat, continue to lean forward and gently push the boat away from you. Roll out, grab the boat, and begin self-rescue or wait for help to arrive. Try to fight the temptation to turn the boat upright – as long as it's upside down, it's not taking in any water.
The Eskimo Roll: Any experienced sea kayak enthusiast will tell you, rather emphatically: Get a good instructor and learn to Eskimo roll. It opens a whole new world of opportunity and does wonders for your self-confidence. If you do capsize, a good Eskimo roll will save you the trouble of the wet exit, T rescue and paddle float rescue. How? When you tip over, you'll keep spinning until you break though the water on the other side and realign yourself. Learn it.
Safety: Keep a weather radio, tide book, compass and maps and charts in your hatches. You'll need navigational information to get where you need to be. This knowledge is crucial if you plan to take long tours.

Where From Here? Just like playing a musical instrument, you don't learn how to paddle while sitting in front of the computer – you learn how to paddle by paddling. Stay within your skill level and gradually work your way into more challenging water. Take guided trips and get competent instruction from local outfitters and paddling shops.