Home
The Videos/DVDs
Reviews
Tips
Behind the Scenes
Photography
Order
Nature Photography
In addition to videography and documenting events with both video and still cameras, I travel the West with a 30-year-old 35mm Pentax ME Super Camera with SMC Pentax Lenses. The Pentax is fairly compact and excellent for boating/backpacking trips. The portraits on the Aids ride were exclusively shot with a 100mm lens and the nature stuff mostly with a 24mm lens with a smattering of a 50mm lens. I shoot only positive color (slide) film and favor the color saturation and color tone of Fuji-chrome but occasionally shoot Kodak Film.
Note: These are best viewed in a darkened room. If too much light is on your screen, you will miss the depth of color and subtlety of shade, particularly on the last photo -- in a bright room, it's nearly impossible to see the cabin in the background or the red lichen on the cliffs.
Thousand Island Lake is located in the Ansel Adam Wilderness, on the southern border of Yosemite National Park. I shot this from an area accessible by foot from Dead Horse Lake at Tioga Pass. The Wilderness features miles of sweeping granite ridges, spectacular views, and hundreds of clear, cold high mountain lakes. Meadows are blanketed in sub-alpine flora such as aster, cow parsnip, lupine, columbine, shooting stars, and mule ears.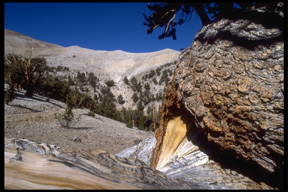 Bristle Cone Pines are Earth's oldest living inhabitant. One Bristle Cone, named "Methuselah" and aged 4,767 years, has lived more than a millennium longer than any other tree. These hardy species of pine have adapted to some of the harshest living conditions on the planet. This one is about 10,000 feet elevation in the dry, windy, alkaline White Mountains, East of The Sierra Madres, north of Death Valley.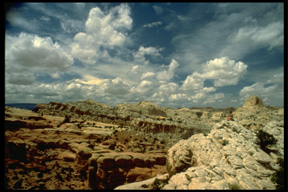 Capitol Reef State Park in Utah. When we discovered this area, no RV's were in sight, wild asparagus grew in the campground, and old Mormon fruit orchards survived in the historic town of Fruita. We rented orchard ladders for $1 for a self pick grocery bag full of fresh fruit. This photo was shot on a cross country hike -- the only time I ever got, almost, completely lost . . . around nightfall gullies and washes look about the same. On the hike we found a wash where Anastasi peoples made tools and arrowheads hundreds of years earlier but it looked like they were there yesterday.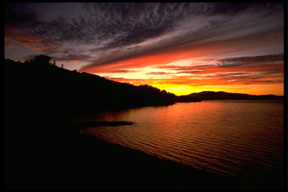 ChinaCamp, a 1,640 acre watershed park along San Francisco Bay in San Rafael, California is home to an intertidal salt marsh, abundant waterfowl, a variety of land animals, and meadow and oak habitats. The area was also home to a Chinese shrimp-fishing village in the 1880s when 500 people, originally from Canton, China, lived in the village. One of the remaining old buildings is being used as a museum. The other is a funky restaurant serving hotdogs and beer. A signed photograph of Marin's rock group Huey Lewis and the News is tacked to its walls.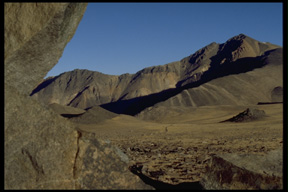 The White Mountains reach a height of 14,246 feet. This shot was about as close as I got to the top, (13,000 + ft). I was breathing hard and felt weak, even after two days at base camp to acclimatize. My friend Lynda never made it this high -- she was in bed with altitude sickness. Located just north of California's Death Valley on the western edge of the Great Basin, the White Mountains are in a rain shadow of the Sierra Nevada. The Sierra takes the majority of moisture from Pacific storms, leaving the White Mountains with strong dry winds.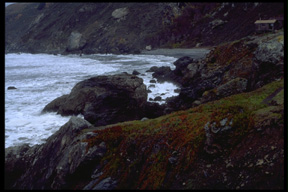 I won't even tell you where this cabin is. It and nine others along the California coast are rented out for, I think now maybe $35.00 to $40.00 a night. They're primitive (as in bring your own everything), but all you'll hear is the sound of wind and wave. These WPA built cabins used to more accessible before Sunset Magazine got wind of them and exposed them to the world. Now reservations are hard to come by.
Moving Pictures
Larry Lee Holman
521 Linden Ave, Grass Valley, CA 94945
Telephone: 530.263.5533
e-mail: rhythmmethod1333@gmail.com
Copyright: Larry Lee Holman, Moving Pictures. All rights reserved. Web site maintained by
Helm Multimedia
Also, please visit these great sites: Respect Yo Mama: Mr. Recycle Man, and Rhythm and Bliss.